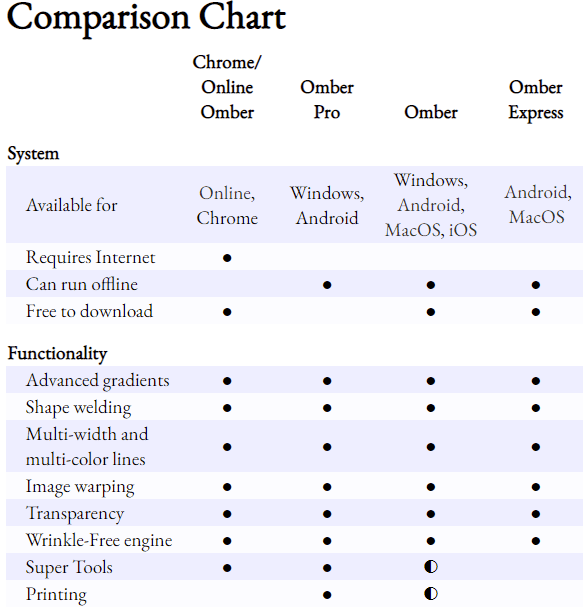 Omber has a lot of different editions available for many different platforms. These editions accumulated over time for various reasons. Unfortunately, some of these editions are being discontinued.
Omber Pro for Windows is being discontinued. The regular Omber for Windows is free, but you can unlock certain premium features for a modest subscription fee. I know some people don't like subscription software, so I also offered Omber Pro, a paid edition with all features permanently unlocked. Unfortunately, Microsoft is no longer allowing me to sell Omber Pro. Omber Pro only ever sold a couple of copies, so Microsoft is removing it from the Windows Store. I want to be able to continue updating it so that those who purchased the software in the past can still get any new features that I add to the regular edition of Omber, but Microsoft is blocking me from updating it as well.
Omber Express for MacOS is also being discontinued. I originally had two apps: a free Omber for the Mac and a freemium Omber for iOS. Then Apple merged their Mac Store and iOS App Store, and they allowed in-app purchases across iOS and Mac as long as apps had a single entry in the app store. So the free Omber for the Mac became Omber Express, and I made a new freemium regular Omber with editions for iOS and Mac. That way, users who paid to unlock premium features on iOS could also use those premium features on the Mac version as well. I wanted to discontinue Omber Express for the Mac, but it had one feature--customizable keyboard shortcuts--that were a paid feature in the regular version of Omber, so I kept Omber Express in the store for those people who had already started using the earlier edition of Omber and liked having keyboard shortcuts for free. Unfortunately, new users keep downloading Omber Express even though it's no longer updated. All new features are only added to the regular version of Omber. Since Omber doesn't actually make money anyway, I'm simply going to make customizable keyboard shortcuts free in the next release of Omber, and I will then discontinue Omber Express for Mac.
The mess of editions available for Android will stay the same. Originally, I just had a paid edition called Omber. Since the web edition was free, I decided I should also make a free version of Omber for Android called Omber Lite. I eventually enabled enough functionality in the free version, that I decided that most people really should simply use the free version. As such, I renamed the paid version of Omber to Omber Pro. The freemium version of Omber was renamed from Omber Lite to regular Omber. Omber Express for Android is a free version of Omber that doesn't have access to any premium features that's intended for people with Android devices that can't access Google's Play store.